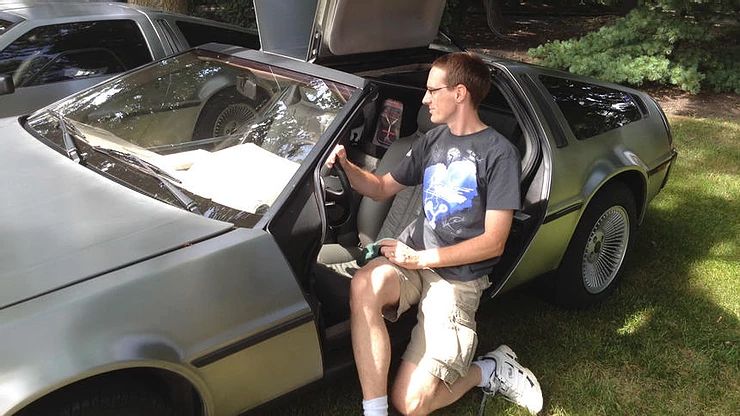 Millennials Collect Cars With New Classics Like Datsuns and DeLoreans
DETROIT—Millennials are getting into car collecting, and they're changing the hobby and the idea of what vehicles are worth owning and preserving.
This year, for the first time, millennials are responsible for more collectible car activity than the pre-baby-boom generation, according to Hagerty Insurance, the largest insurer of collectible cars. Roughly speaking, millennials are the generation born between 1977 and 1995.
Contrary to popular belief, millennials drive and enjoy cars, Hagerty Insurance CEO McKee Hagerty says, but the vehicles that fire their imagination are more likely to be pickups, SUVs and performance cars from late 1960s to early '90s than the 1950s sedans, hot rods and early muscle cars prized by previous generations.
Get ready to see more Cutlass Supremes, Land Rover Defenders, Mazda RX-7s, Ford F-series pickups, Datsun 260Zs, Chevy Monte Carlos, BMW M3s and VW Corrados at classic car gatherings.
It's a progression that happens as every generation reaches the point where they have the time and money to collect and restore cars. A classic car is generally considered one that's at least 25 years old, so a new set arrives every year, along with a generation who grew up admiring them. My '69 Pontiac GTO Judge could be my niece's '89 Nissan Skyline GT-R. 1960s American muscle cars were a dime a dozen 20 years ago. They became collectible classics when baby boomers and Gen Xers hit their peak earning years and sought out the cars they admired as kids.
It's happening again, to a different set of cars. "Cars nobody thought twice about 10 years ago are generating great interest at auctions and museums," said Matt Anderson, transportation curator at the Henry Ford Museum in Dearborn. "People like to collect cars that were popular when they were kids or in high school; 1980s Firebirds, especially Trans Ams, are having a resurgence.
"A lot of it is driven by popular culture, too. There's no reason the DeLorean should be collectible, but the 'Back to the Future' movies gave it an incredible second life. I have a theory that just like every '69 Dodge Charger was converted into a General Lee 'Dukes of Hazzard' car, every existing DeLorean will eventually be converted into a time machine." The current classics won't disappear, but they'll be less numerous when collectors gather. Just as there will always be Model T devotees, the 1955 Chrysler 300-C, the '59 Cadillac Eldorado and company will always have fans.
Millennials are more interested in going places than working on their classics, McKeel Hagerty said. That's bad news for old British cars, which are "noticeably absent" from the list of cars getting millennials' attention. "They were legendarily demanding," he said. "Millennials are not looking at them at the same level as earlier groups. They buy vehicles that are fun.
"There's an ever-increasing interest in SUVs—early 4x4s, like the Land Rover Defender, early Jeeps, the Ford Bronco and International Scout."
While cars built through the 1970s are relatively simple machines, collecting vehicles from the 1980s will present new challenges. The Buick Riviera was way ahead of its time, offering a touch screen a decade before other brands, but pity the fool who tries to find replacement parts for its cathode ray tube.
"Older, unique SUVs and vans are gaining some attention from millennials," Kelley Blue Book editorial director and executive market analyst Jack Nerad said. "Old Minis and mid-70s Japanese pickups also get some love. Then there are the big, American boats from the '70s and '80s era: Cadillacs, Buicks and Lincolns. For (millennials), it's not the classic muscle cars and definitely not flathead roadsters. They're heading in new directions." Despite that, some vehicles draw plenty of interest from millennials and earlier generations of collectors, according to Hagerty's data. Nearly every generation of Ford Mustang is on the hot list, along with Chevy Camaros, Corvettes and pickups. Icons like the 1955-57 Chevy Bel Air and the 1949-80 VW Beetle get plenty of love from car fans of all ages.